Existing Conditions
The sole current commitment of state dollars for Route 59 improvements is less than $750,000 over four years - an embarrassingly meager commitment to one of the state's fastest growing municipalities. This funding is allocated only for sidewalks along a small segment of Route 59. While a small step in the right direction, a complete overhaul is necessary to address the pressing imperative to prioritize the safety of our community's pedestrians and drivers at hand.
Master Plan
To address these issues, Improve59 has developed a Master Plan (shown below), which consists of specific measures that to improve travel through the corridor.
As shown in the Master Rendering, Improve59 envisions bottleneck relief by:
Creating an additional lane of traffic in each direction on Rt. 59
Adding an additional lane of traffic on Rt. 306 to enhance traffic flow
Synchronizing traffic lights
Opening the Rt. 59 Bypass road
Equally as important as the safe passage of automobiles is the safety of pedestrians and bicyclists. To improve flow throughout the corridor for these travelers, we envision:
Adding sidewalks
Creating safe pedestrian crossings
Developing a biking/walking trail with a safe recreation area for children extending from the Park & Ride all the way through Monsey Glen Park.
For a view of these features applied to the intersection of Route 59 and Robert Pitt Drive, see below. Highlights of this zoomed in view include a beautification of the corridor with landscaping enhancements, as well as environmentally friendly parking options taken at the adjacent development.
View of 59 & Robert Pitt Drive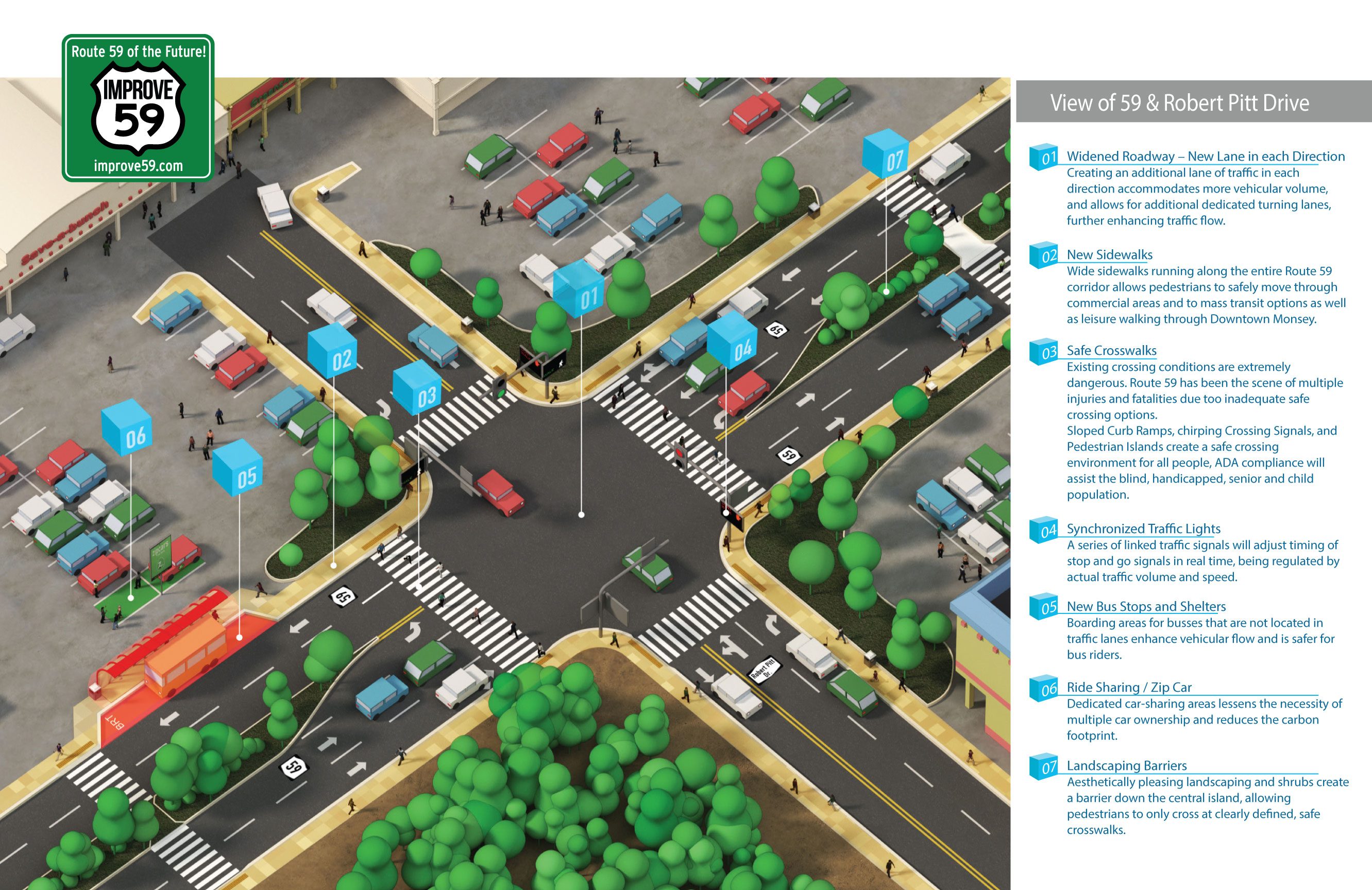 New Sidewalks
Wide sidewalks running along the entire Route 59 corridor allows pedestrians to safely move through commercial areas and to mass transit options as well as leisure walking through Downtown Monsey.


Safe Crosswalks
Existing crossing conditions are extremely dangerous. Route 59 has been the scene of multiple injuries and fatalities due too inadequate safe crossing options.
Sloped Curb Ramps, chirping Crossing Signals, and Pedestrian Islands create a safe crossing environment for all people, ADA compliance will assist the blind, handicapped, senior and child population.


Synchronized Traffic Lights
A series of linked traffic signals will adjust timing of stop and go signals in real time, being regulated by actual traffic volume and speed.


New Bus Stops and Shelters
Boarding areas for busses that are not located in traffic lanes enhance vehicular flow and is safer for bus riders.


Ride Sharing / Zip Car
Dedicated car-sharing areas lessens the necessity of multiple car ownership and reduces the carbon footprint.


Landscaping Barriers
Aesthetically pleasing landscaping and shrubs create a barrier down the central island, allowing pedestrians to only cross at clearly defined, safe crosswalks.


Widened Roadway – New Lane in each Direction
Creating an additional lane of traffic in each direction accommodates more vehicular volume, and allows for additional dedicated turning lanes, further enhancing traffic flow.
Click here to see a zoom view of the map with key
The Objective at Hand
These improvements, while dramatic, can be achieved with collaboration and support from the community. Because minimal state funding has been allocated to make these necessary improvements in the foreseeable future, the opportunity for mitigation is left solely to citizen advocacy for sound planning and an increase in state funding to make it happen.
Improve59 is proposing an independent, definable plan of action to begin the conversation in the absence of a state or municipal plan to support the growing number of drivers on the road. The citizens and businesses in the Monsey commercial district are in need of improved safety and travel, and Improve59 looks forward to collaborating with community leaders on the mitigations proposed to create the Route 59 of the Future!
Get Involved To Improve59
With just ONE CLICK, you can tell our public officials how important it is to Improve59! The bold plan for the "Rt. 59 of the Future" demands state investment and local action. Together we can make an impact!